Hello everyone, firstly, we hope that you have all managed to stay safe and well during the last 16 months.
With Monday 19th July fast approaching and given the changes that are about to happen to the current government guidelines we would like to take this opportunity to give you an update on Quinborne and how we plan to reopen the centre during the months of July, August, and September.
As it stands, we plan to keep the current system of allowing only those members of the public connected to a particular group / class entry to the centre, however we will be removing this restriction w/c 16th August.
During this time will be advising all users to continue to wear a facemask in public areas and whilst we are aware that this is not written in law, we would really appreciate everyone's cooperation as we have several vulnerable users that sill attend the centre.
We will also keep the one-way systems and hand sanitisers in place and for the foreseeable future we will also be leaving the Perspex screens up.
Once members are in their relevant room it will be up to the discretion of both themselves and their class / group leader as to whether they continue to wear a face mask or not.
Keeping these restrictions in place for the next 4 weeks will give us time to do any required maintenance work, move furniture back into position and get the centre ready for our full reopening in September.
W/C 16th August we will be re-opening the centre doors to all users, at the stage it is also our plan to start the reselling of bric-a-brac, DVD's, cd's, and books alongside the usual collection of sewing and craft materials.
Depending on the government guidelines at the time, the wearing of mask within the centre may still be advised.
W/C 6th September and with Government guidelines allowing both the centre and the café will reopen for 6 and 5 days respectively. This will mean all our groups will have returned and there will be very few restrictions within the centre.
Of course, all of the above could change but we would though it would be a good idea to share with you our plans as they stand on the afternoon of Thursday 15th July.
Also please keep checking back to the website as over the next couple of weeks we will be publishing our updated activity schedule, new courses starting in September will include computer training, learn to paint like the Masters and floristry.
We really look forward to welcoming everyone back as it has been far too long, so it just leaves us to say, we hope you all have a great summer, and we look forward to welcoming you all back in September.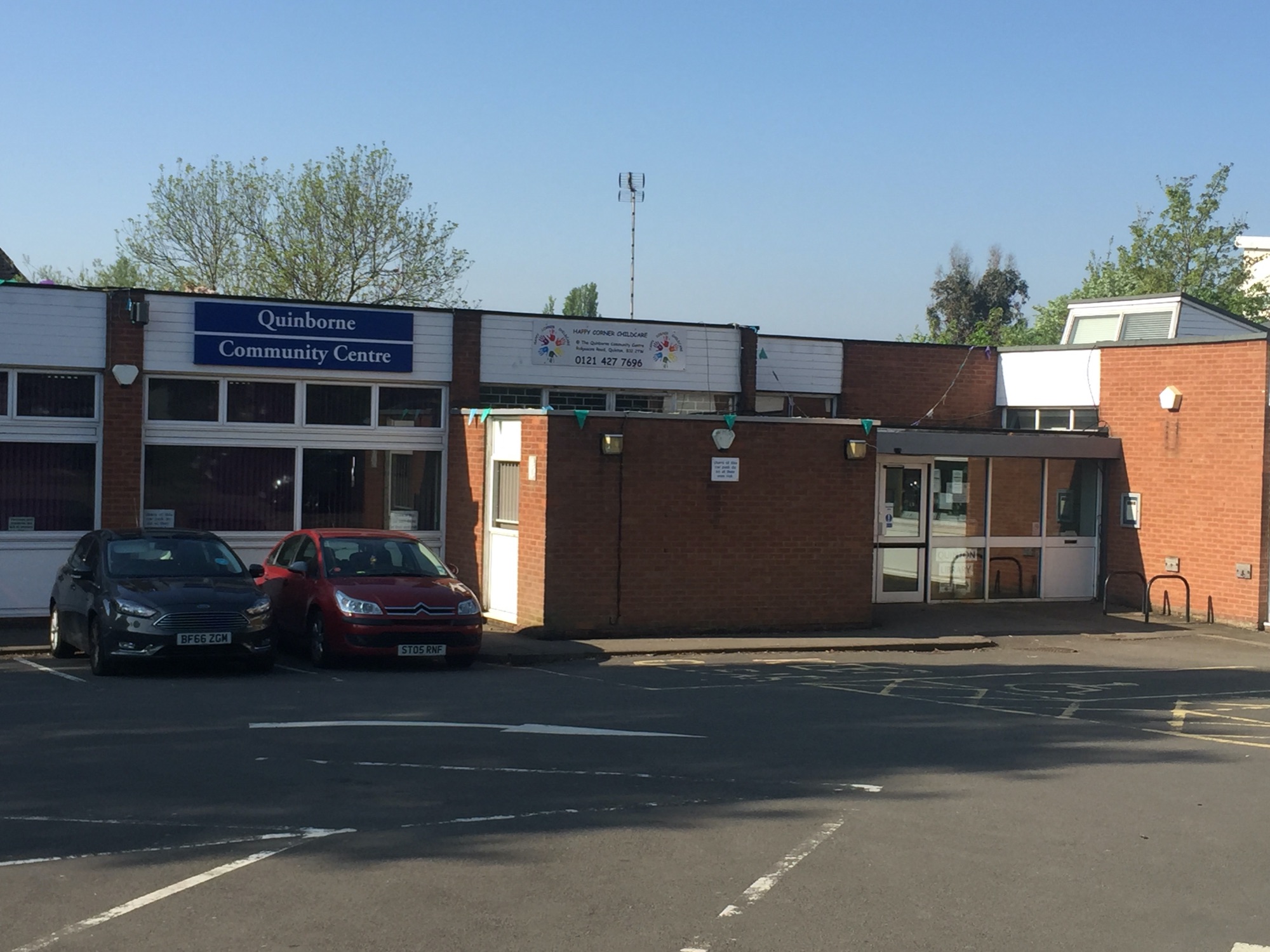 Quinborne Community Centre, Ridgacre Road, Quinton, Birminghamm B32 2tw
0121 682 - 7474